Lungworm infection in dogs
Submitted by
user1
on Fri, 04/01/2016 - 10:27
Lungworm (Angiostronglylus vasorum) is a parasitic worm that lives in the heart and lungs of dogs and foxes. Infection occurs when the dog eats slugs or snails which can easily occur when playing outside. The life cycle of the parasite is:
If left untreated the worm can cause damage to blood vessels in the lungs leading to lung and heart disease, as well as blood clotting problems. The condition can be fatal.
We advise that you worm your dog every 3-6 months with a product that pevents lungworm. Treatments include:
Milbemax - A tasty oral tablet
Advocate - A spot-on that also protects against fleas for 1 month (but does not protect against all other worms)
Panacur - An oral paste which should be given daily for 5-21 days
To reduce exposure to the worm it is advisable not to leave toys, water bowls or feed bowls outside when not in use, and to remove faeces as soon as they have been passed.  This will interupt the worm's life cycle and reduce the exposure to worm eggs.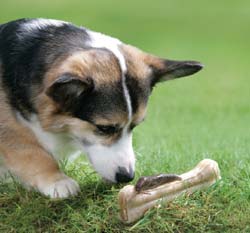 Opening Times
Consultation Times
Open surgery
Mon - Sat: 9am - 10am
Appointments:
Mon - Fri: 8.30am - 9am, 2pm - 2.30pm, 2.45pm - 3.15pm (small furries and cats only) and 4.30pm - 6pm
Practice Opening Times
Mon - Fri: 08.00am to 6.30pm
Sat: 08.00am - 12.00pm
For other appointment times, home visits & emergencies, please call 01609 772036